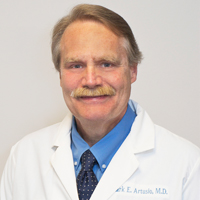 Dr. Mark E. Artusio, M.D., F.A.C.S
Specialty:
General Surgery
Address:
Foris Surgical Group
45 Thomas Johnson Drive Suite 211
Frederick, MD 21702
Dr. Mark Artusio was born and raised in Pelham, New York. He was educated at Fordham Preparatory School, College of the Holy Cross, and Cornell University Medical College. Thereafter, he trained in surgery for five years at Emory University in Atlanta, Georgia, where he was selected to function as Chief Resident during his last year. He then served as staff surgeon with Kaiser Permanente in the Washington, D.C. area for four years. There he served as Chief of Surgery and was Director of Urgent Care for several years.
He and his wife, Lynda, a Registered Psychiatric Nurse Practitioner, moved to Frederick in 1989. He has been a member of the Foris Surgical Group since that time and is on staff at Frederick Memorial Hospital, where he has served as chief of the Section of General Surgery for the past 18 years. Additionally, he is a founder of Thomas Johnson Surgery Center, where he can provide first rate surgical care in the comfort and convenience of a modern, well-equipped, friendly, and relaxing outpatient facility.
His surgical interests include laparoscopic gallbladder removal, hernia repair (both laparoscopic and open approach), breast surgery, hemorrhoid surgery, skin surgery and port placement for chemotherapy, as well as host of minor office procedures. He has performed thousands of each of these procedures with great success over his career. Many of these operations are performed through tiny incisions that are less painful and are more cosmetic than traditional surgical incisions. His ability to perform painless office procedures with sophisticated use of local anesthetics is unmatched. Additionally, he has a keen interest in a finer cosmetic approach that leaves patients with smaller and more cosmetically appealing incisions for almost any operation. He is committed to "going the extra yard" to ensure excellent cosmetic results
Dr. Artusio has been board certified in Surgery by the American Board of Surgery for 30 years, is a long-standing Fellow of the American College of Surgeons, and a member in good standing of many professional societies. His 36 years of surgical experience give him a broad, mature outlook in matters of diagnosis and treatment of many surgical conditions. He and his wife love living and working in Frederick where they stay busy keeping up with three active sons.