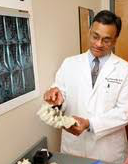 Dr. Ravi Yalamanchili, M.D., F.A.A.N.S.
Specialty:
Spine
Neurosurgery
Address:
Yalamanchili Brain and Spine
141 Thomas Johnson Drive #200
Frederick, MD 21702
Dr. Yalamanchili was raised in Maryland. He graduated from Paint Branch High School in Burtonsville, MD and then obtained his undergraduate degree in Electrical Engineering at Howard University. He also went to Howard University School of Medicine where he obtained his M.D. degree. This was followed by a 1 year internship in surgery and a 5 year residency in Neurosurgery at the University of Kansas. He was the Neurosurgery chief resident in his final year.
Following residency, Dr. Yalamanchili moved back to Maryland with his family where he has been in private practice. He has given numerous presentations to the general public and to other physicians on a wide variety of neurosurgical topics. He has been on various boards throughout the community including the American Red Cross. He is, or has been, on numerous committees in the hospital, including serving as the chief of Neurosurgery, Chairman of the Department of Surgery, and Vice-Chief of Medical Staff.
He is currently Chief of Medical Staff at Frederick Memorial Hospital. He is the only staff Neurosurgeon at Berkeley Medical Center.
In his spare time he enjoys spending time with his family, mountain biking, and playing tennis.